The other day, I was finishing off my sister's PJs and I was trying to make the drawstring for the waistband. You know, when you cut a long strip , fold it lengthways, right sides together and stitch along the long side. Then you have to turn it the right way. I wandered around the house for much longer than was necessary, thinking 'what do I have that is long, thin and solid that I can use to turn this drawstring the right way. Hello! Duh! A whole collection of knitting needles. Honestly, I could not think of anything to use. A pen? A pencil, a peice of wire? I'm so dense sometimes! It got me thinking of what novel uses I have for needles.
Those bad cats keep sitting in my window boxes and have broken one of my snap-dragons. So, I staked it with a needle! Not sure it will grow back, but it was worth a try. My boxes were symmetrical before Velma sat in them!!
James tends to use one of my old needles for cake-testing (yes, he is the only one in this house who can and will bake...). Now this one lives in the utensil jar! When Mum was small she broke her leg and used to use a needle to scratching her leg under the plaster too!

I have also finished the left front (minus the buttonband) of Bianca. Here it is... I am really enjoying knitting this. Just enough interest to keep me interrested, but simple enough to be able to watch telly simultaneously. The last pic shows the colour best.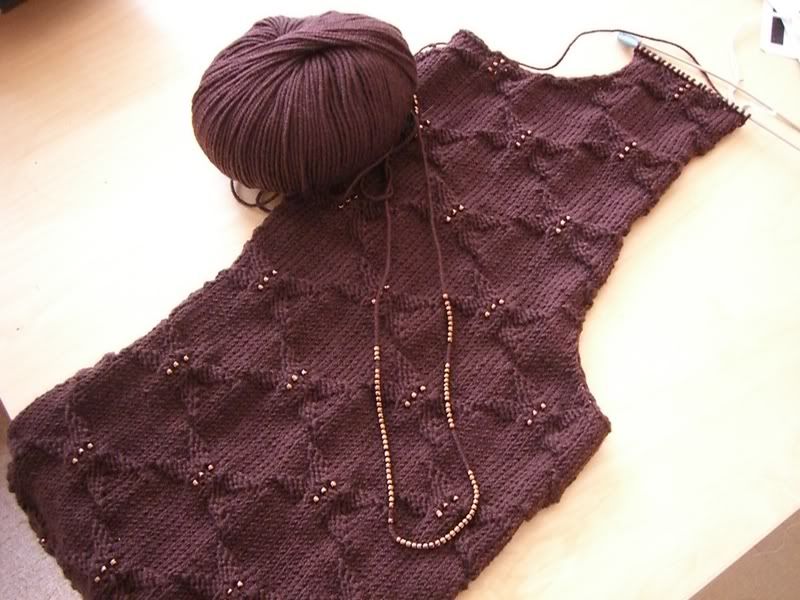 On Friday I sent the first chapter of my thesis to my supervisor to chekc over. Eeeek. Its getting a bit too real now...... roll on the next 100,000 words.....
We're off to Ireland to see some friends tomorrow, catch you all next week!