Tuesday Night, Monica kindly hosted a knit meeting at her house. Well, more of a party really with lots of delicious food. Including the best pineapple and coconut cake any of us have ever tasted!! Lots of gossip, witha little bit of knitting for good measure. I'm going to miss you all terribly.....
Left to right,
Pat
,
Bev
and Linda.... I've said it before, but Pat has really helped James and I feel at home here. When we bought the house, she put us in the car and drove us round pointing out all the ins and outs of Sneinton. And she was poorly at the time. Thank you Pat! She has also provided much knitting and sewing support, helping with heming two dresses so far....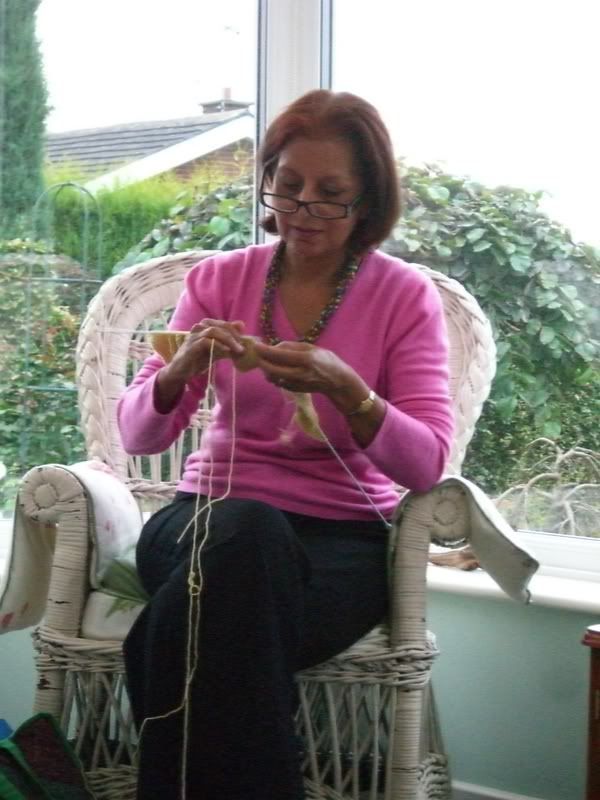 Baldeesh, going some actual, bone fide knitting! Baldeesh came to the knitting and Stitching show with Sarah and I last year. Lucky she did, she kept feeding us sandwiches and Pringles all the way there!
And Sarah (who to be fair, is knitting too....) and Monica. Isn't her conservatory beautiful? I was Sarah' bridesmaid (see my pic, top right?), we met at Uni. I was thrilled when she came to me saying she'd bought wool and could I teach her. Look at her now, a cardy in 4 ply!! Monica, I originally know from work. I was shocked when I joined a knitting group and there was a colleague!!
I really will miss these people. One of the topics of conversation on Tuesday was the lovely people you meet through knitting. So true..