So, today I'm at home, waiting for the aerial man. The aerial (yes, the six month old, £200 aerial) blew off the roof and is dangling from the side of the house. No TV. No, none, not a smidge. My nosy-but-nice-avon-lady-neighbour asked why we didn't have Sky. Freeview is enough channels for us I said, and it's free. Well, she said, if you had Sky or NTL cable then they'd come and fix it for you for free if the dish blew down. I know she said, I have both. BOTH??!! Who needs Sky AND Cable???? Anyway, I digress. I'm at home today, so I'm taking the opportunity to tidy. Our house is a tip. Well, OK, it's not too bad, but nothing seems to have a home, and there is a lot of stuff just floating about. And look what else...... I bought a sewing machine (thanks for the christmas money Grandpa!!).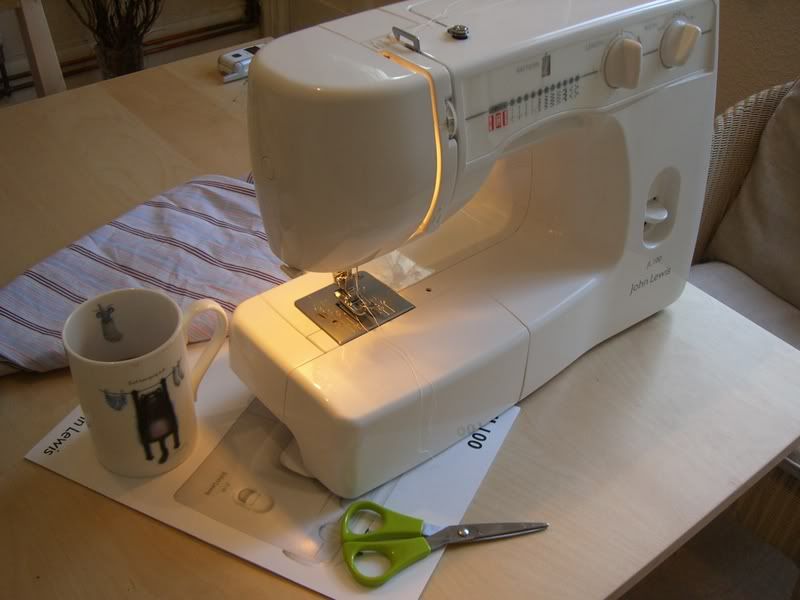 I've been taking in the waist on James' christmas Pyjamas. Which he hasn't worn much yet, since I seemed to have made a mathmatical error on the waist band. He professes to love them though. Bless. The machine and I don't love each other yet, but I'm sure we will. The foot lifter thingy is in a totally stupid place for a start. It's not at the back of the needle, but to the right, around the side. How awkward would that be if you were left handed. Which I'm not, by the way. Maybe it's not odd to have it there, it's just not like any machine I've ever used. It is only a basic John Lewis machine (apparently made by Janome though), and I'll probably have to crank up the old Jones (of James' grandmother) if I want to do heavy stuff, but for my day-to-day needs this'll become my friend, I hope. So Ok, you and I know I don't sew everyday, but you get the picture.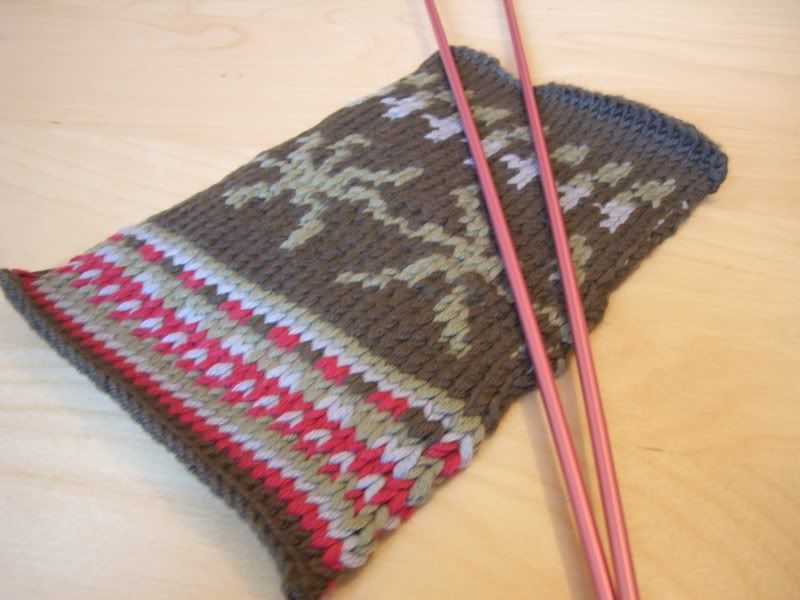 And, here's an update on the 'designing' front. I'm keen for 'it' to include some colourwork, so I've been experimenting, with different techniques and ideas. I love the three colours, a sagey green, cranberry and baby blue. As balls, they go really well together, with the grey-brown background. But, knitted up into various patterns, well, not so much. I love the green and the blue together, but add the red, and it's christmas all over again. So, I'm going to put this away and have a re-think. Maybe some orange in there instead. I'll keep you posted.
As for other knitting, I think I've found the pattern for the Noro Lily I bought in the States. I'm going to cast on for
this
, the Sun Ray shawl from elann.com. Although it will be a scaled down version to rival my Icarus. I've never realised what great free patterns this site has. Watch this space.....
So I sound really domestic don't I. Before you start shouting, it's 2007, not 1957, I have to say this. James had a day off yesterday, and he spent it running my errands, doing the coming week's shop (he even wrote a list and remembered to take it!) and then cooking supper. Above mentioned neighbour said 'What you don't cook?'!. So, all's fair in our house. And anyway, if I was a housewife, I'd be rubbish. I mean, it's taken me a month to take in the waistband on a pair of PJ's.
Happy weekend all.