Not much has been going on here that is blog worthy really. I haven't done a load of knitting since it was such a rush to finish Dad's socks. I have lots planned so I must get a move on! I picked up RYC's Moonshine last night and realised how much I have to do!
Also on and off the needles recently were some hats for
Annie
. Here is a sneak peak for you Annie.
The two colourful ones are for small children and the bigger, turquoise one is a beret. I love this hat, I made it for myself a few months ago, and thoroughly enjoyed making it, DB Alpaca Silk is one of my favourite yarns, in this case it was given to me for my birthday by James. However, the style looked dreadful on me! And it was too small. As some of you may know, under no circumstances am I an unpicker. I very rarely frog something that is finished. Especially if I enjoyed knitting it so much (and this was knitted watching Lucky Number Slevin, and we all know what I thinkof Josh Hartnett don't we!!). More fool me really! Anyway, I thought it would be perfect for Annie's cause! I hope it is suitable for someone in Boston, perhaps a pre-teen girl? I had to check with James if he minded me giving it away, I felt a bit bad, since he had carefully picked out the yarn for me. He didn't mind, it's for a good cause and he said as long as I had fun knitting it he was happy. I loved packing these of to Annie, I really enjoy putting little labels on. I hope they are the kind of thing you were looking for.
Actually, in knitting these hats, I bought a ball one wool, (the rest was from stash diving) and discovered some yummy acrylic. Yes, you heard me!! The multicoloured hat is
Wendy Peter Pan DK print Yarn
. I fell in love with the colours and had to buy it. It's 100% synthetic ( a blend of acrylic and nylon) and mega soft! Its absolutley fine to knit with too. It is a tad 'squeaky' and looks a little bit synthetic (it doesn't try and hide it). It's intended for babies, and oddly this doesn't mean just white or baby pink, the range of colours includes some great brights. I'll definately think of this next time I'm knitting babies.
So anyway, waffle waffle. I also had a yarn clearout, and offered it as gifts in Knitty, for the first four people who emailed me. It turned out I needed 6 names, I had more than I thought. It was quite cleansing - a good clearout always is. I hope they are all happy with their packages, I tried to tailor them to the individual by asking what their least favourite colour is. I really enjoyed picking out all the colours and reading blogs to see what people like. There was some nice yarn there, DB, rowan, jaeger and some everyday acrylic and some vintage stuff, mainly oddballs. It has made room in our top bedroom, which I'm going to start decorating and moving into soon. I haven't told James this yet, he does know it's going to be an office (stroke craft room, hee hee!). It makes sense to start decorating from the top, right? And this is an easy one, only cosmetic stuff to do, and only three of the four walls are woodchipped!!! Anyway, here's what the pile of packages looked like ready for the post office.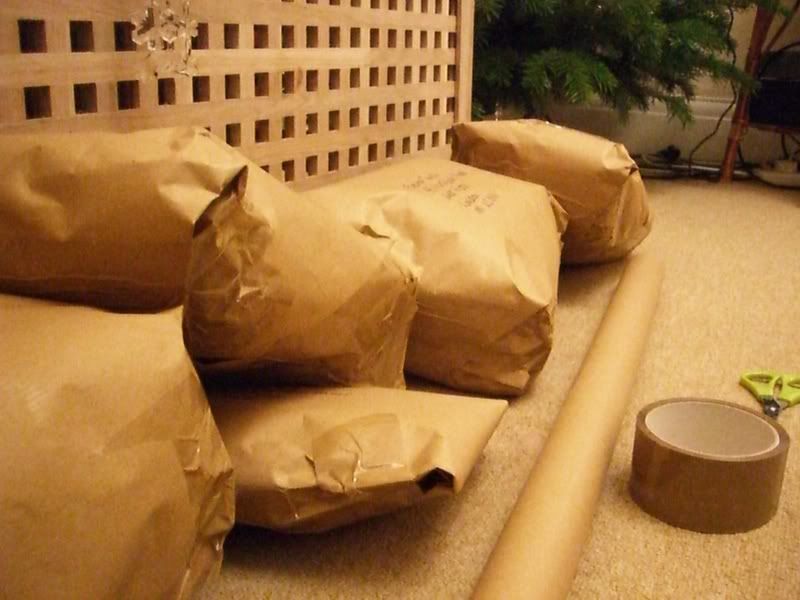 And last but not least, Daphne was in the bath again last week. Although, this time we saw her do it and she JUMPED, she didn't fall. What's wrong with these cats?? Velma has taken to eating the bubbles!