Thanks everyone for your sweet comments on my last post. I appreciate you taking the time to make me feel better. Alma, you are right, the tea bag needs to be removed before it becomes bitter. So true, I'll remember that. As you say Sarah/Bez, I'm young and I have a lot to be excited about.
I have contacted several people in the last week, and although the response isn't entirely what I had hoped (no immediate job offers!!) it was all positive. Mum reminded me not to let go of the academic stuff just yet (I have every intention of submitting my thesis, of course, I've come too far) and to keep looking for jobs in this field. She's right, as usual. I'm so lucky to have James who reminds me all the time, that he'll love me whatever.

I feel a lot better, I took last week slowly, and I'm more cheerful this week. We had a lovely weekend too, with my Dad's side of the family.
Look where we went!!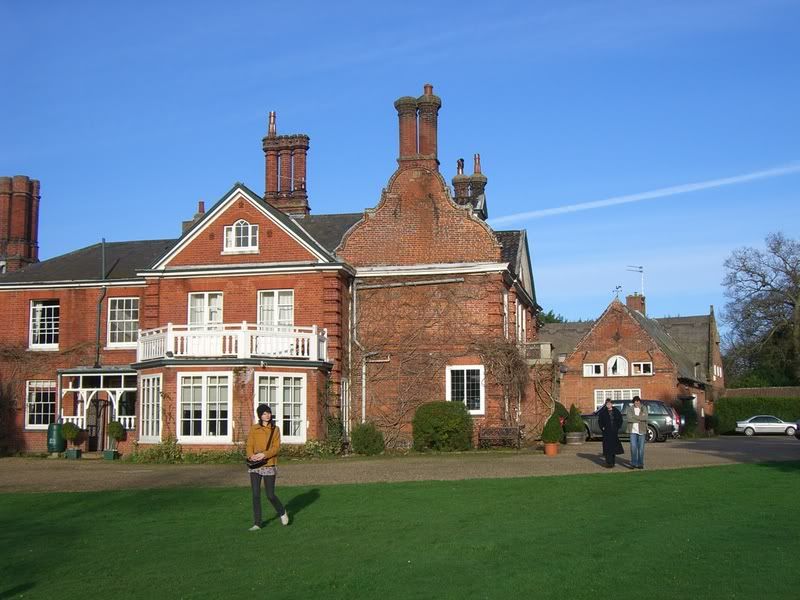 My beloved Grandpa was 90, so we went to Norfolk (near Wroxham, as you were interested Sarah!) for a small party. It was nice, my Dad's family is small, and we don't spend a lot of time together, so it was nice to get together, and in such a lovely place. There was the notable absence of my aunt (dad's sister), her husband and son, dispite them living in the next village. This is due to their rather bizarre, bigotted views and opinions on my cousins sexuality. They have choosen to ignore her completeley. We clearly do not hold these views. It put a cloud over the weekend, but only in a distant way. We all enjoyed ourselves anyway! I'll not go into it (maybe you can guess the rest) but we'll never understand how people go through life with so much bitterness. We were proud of Grandpa who told my aunt, No he was'nt going to go out with her for supper, he was having a party, to which she was invited, she just chose not to come. Go GP!! There was lots of delicious food, and thanks to my dad's careful decisions, lovely wine. I don't know my cousin Cath very well, she's older and my dad has never been that close to her mother. But she's lovely, very very witty and sharp as a tack! Great fun. Here she is (on the left) with her Partner, Leigh.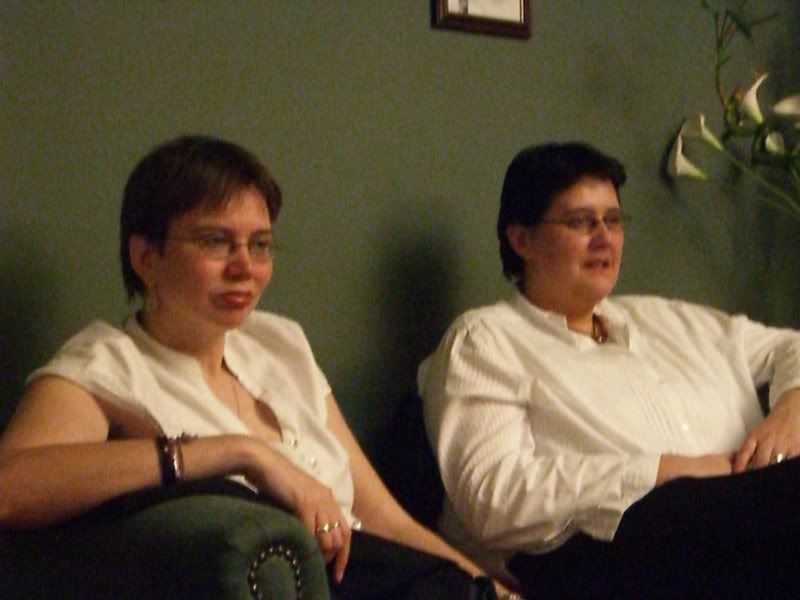 And here's Grandpa, looking nowhere near 90, with my sister and Cath. We're all very proud of him (he goes travelling all by himself and his favourite drink is Sambucca).
Here's my dad (aka the Somellier) and James, looking thoughtful. It was rather late by then!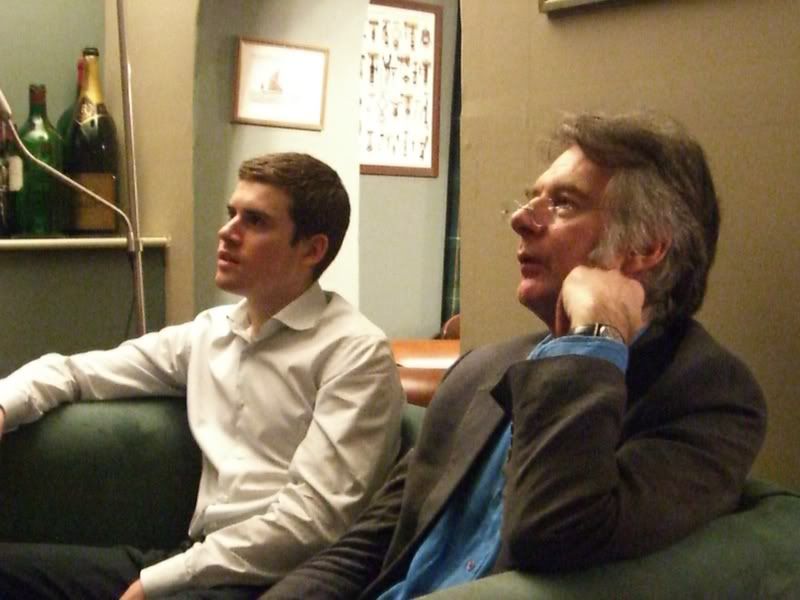 This is dad's partner Kate, who organised a beautiful cake, and my sis and her boyfriend Ryan.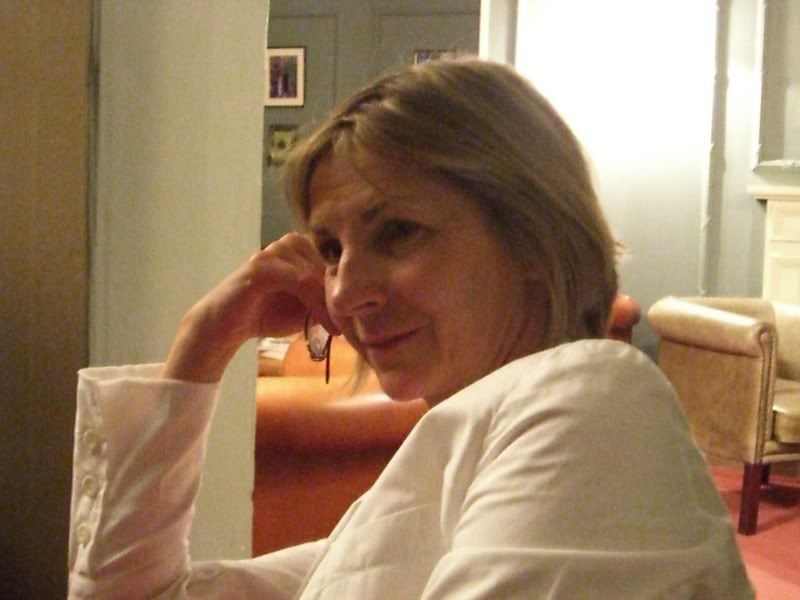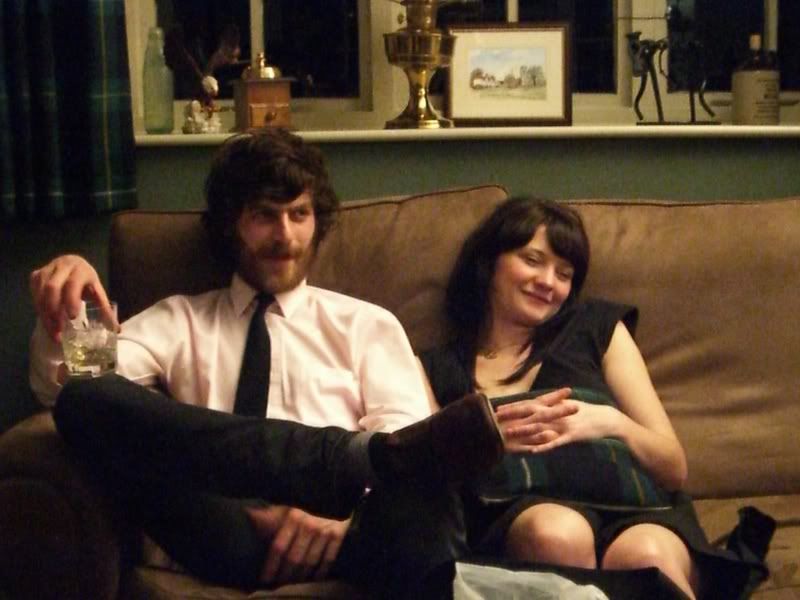 Grandpa loved his scarf too, my first FO of 2007. Although as I predicted, one of his first questions was 'So what colour would you call this dear?'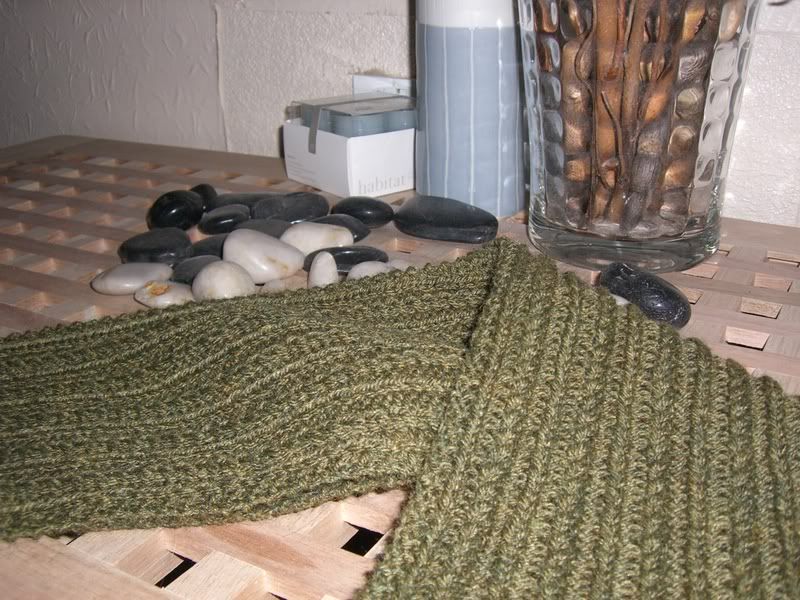 Pattern: Sirdar Leaflet - can't remember the number!
Yarn: The recommended Town and Country DK, Acrylic and wool
Time to knit: Two weeks
I'm not sure this is a good photo, the mock cables aren't too clear. I liked this pattern, easy with enough interest not to die of boredom. I did modify it to make it wider, and it could have been even bigger. The original pattern only has the cable at one end, I carried it all the way through. And this my favourite acrylic, nothing wrong with it at all and not squeaky. The whole thing cost me about £4! And best of all, he really appreciated having something made for him!