And what a great time we had. Unfortunately there was no snow, but there was a good covering already when we got there, that slowly melted during the few days we were there. Sod's Law, it's snowing right now there, and we're about to get some here tonight! We didn't do much, ate, drank (Karen's favourite red was 12Euro for 6 bottles!!), read, slept, explored, pretty much. Sarah knitted quite a bit, but somehow I wasn't in the mood. We did however, find some great knitting magazines in le supermarche. Now to dig out my dictionary! Now for some photos, sorry if you're on dial-up! (there is a knitting story at the bottom too!)
Since there is only a small fridge at the house, we had to improvise......

This will well and truly become our iconic photo of the trip! If only my legs (far right!) where that long in real life!
Duncan is soooo lucky this wasn't aimed at me!! He was our designated driver, and was thrilled to be driving a new renault mini MPV. Until he put it in a snow drift! We were half way up Puy Mary, one of the tallest mountains around, when we pulled over to the right (luckily away from the sheer drop!) to avoid an oncoming car and the car dropped into a snow covered ditch. Funnily enough, he was trying to avoid a ditch we could see! So, we all got out to push, and promtly sunk about a foot into the snow! The driver and his wife got out of the car we had being trying to avoid and helped too. And, crisis overted! Although we spent the rest of the day with wet socks, and the road we had been trying to get to was closed anyway! Happy, happy days! :)

We saw this house whilst out and about, and I want to live here!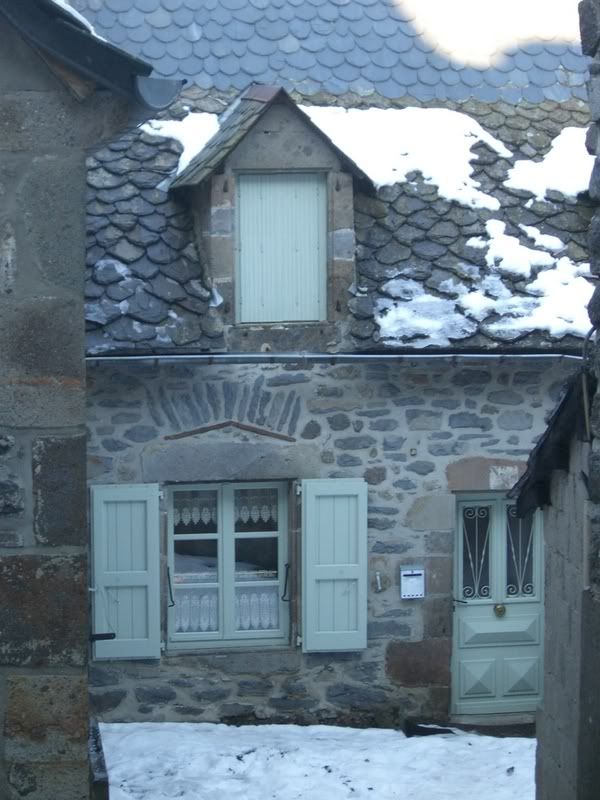 Since they don't have to do it every day, lighting the (amazingly large) fire is still a novelty!!
James still won't agree that he looks like a burglar in his 'suspicious' hat!
So, we found some knitting magazines in the supermarket, with absolutley stunning cabled patterns. All charted, so that's helpful. However, on the continent they tend to write the patterns in prose, rather than line by line statements as we do here. I was trying to explain this to James, and say that this was going to make it more difficult to translate. That instead of writing
row 1: K,
row2: P,
row 3; K,
row 4: P1 P2Tog P to last 3 stitches P2tog P1, etc for example,
they would write in prose as follows, continue in stocking stitch for 4 rows whilst decreasing at each end of the final row blah blah etc. He thought this was really funny and said, what could they add some adventure in there too? Like, "She knitted, whilst the terrorists crash through the window, and as gun fire blazed she decreased at each end of the row". I of course, thought this was hilarious and woke the whole house. Guess you just had to be there :)