On Tuesday night I finished my Sun Ray Shawl. And, I love it. I'm going to give a bit of a review of the yarn and the pattern, and compare it to my
Little Icarus
.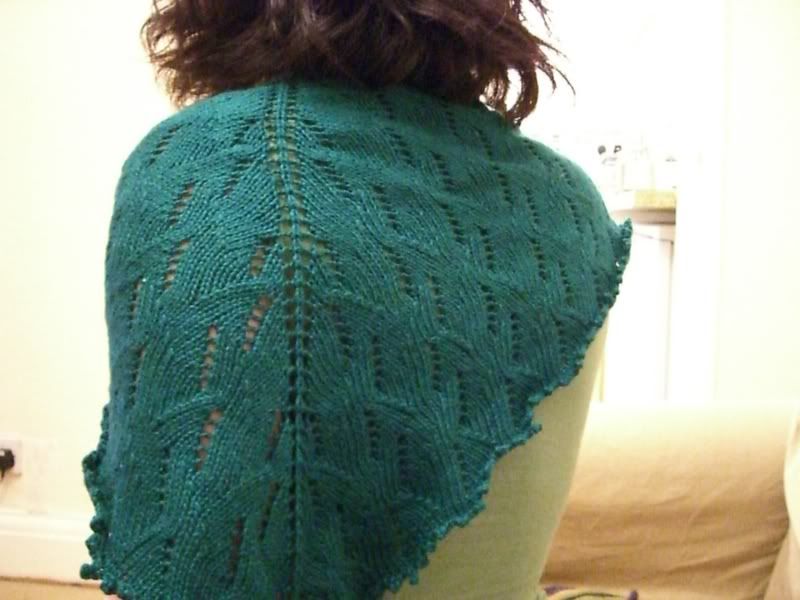 (yes, that is Nell with newly short hair - the less said the better, but it's growing on me!)

Yarn: Noro Lily, 4 hanks, 560m in total 70% cotton, 30% silk
Needles, Bogstandard Pony circulars, 80cm, 3.75mm
Time taken to Knit: 10 days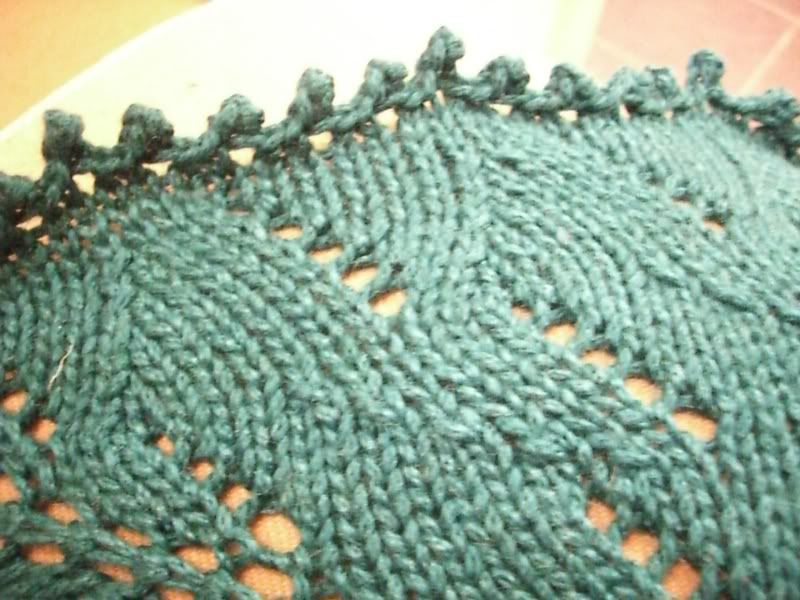 I fell in love with this pattern as soon as I saw it. I already had the yarn, which I bought in the States, and it was earmarked for a second scarf/shawl, like my version of Icarus. I just needed to find a pattern, something a bit more involved than Icarus, which only has rows of eyelets for the main body of the shawl. The pictures that are online with the pattern, are nice, but they have it knitted in a funny yellow (presumably to follow the name of the shawl), which doesn't do it justice, I don't think. I was attracted to the stitch pattern, I love the way the stitches change direction and flow along the shawl. I think it is more wave like than sun rays.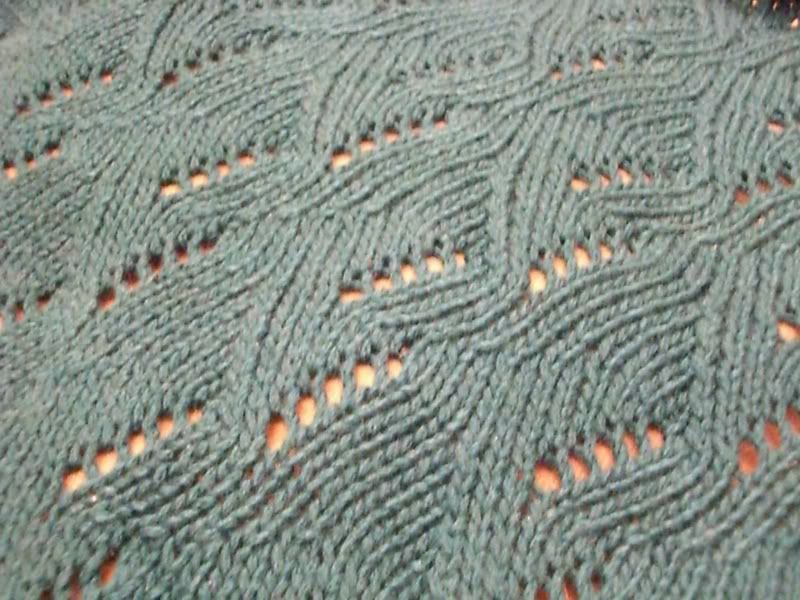 To knit, this is a great pattern, very easy and I couldn't put it down. All that is involved is SSK, yo and K2Tog. No purling 6 million stitches together or anything fiddly like that. It is a 20 row repeat, so it requires a bit of concentration but once you get going, it become obvious which stitches go where. The pattern was originally designed for a chunkier yarn, on bigger needles, to produce a much larger shawl. I am tempted to do it again following the pattern, to make a lap blanket/throw type thing. The pattern calls for 5 or six repeats of the main chart, I did six, which was where I ran out of yarn. Another modification I did was to leave out the garter stitch edging, before the picot cast off. The pattern directs six knit rows before casting off. I like the smoothness of the stocking stitch so the garter stitch edge didn't really follow for me. Instead I continued in stocking stitch for 2 rows, then cast off. As a result, the edge does curl slightly. I like the picots a lot, very simple, although time consuming and the look is effective. There is no cast on edge, which is a clever touch, the designer obviously thought carefully about it. You cast on three stitches, with a crochet cast on, knit 18 rows, then knit these 3, pick up and knit 9 along the selvedge, then pick up and knit your cast on rows. Hey presto, no cast on edge. Sounds complicated, but when I had it in my hands it was easy.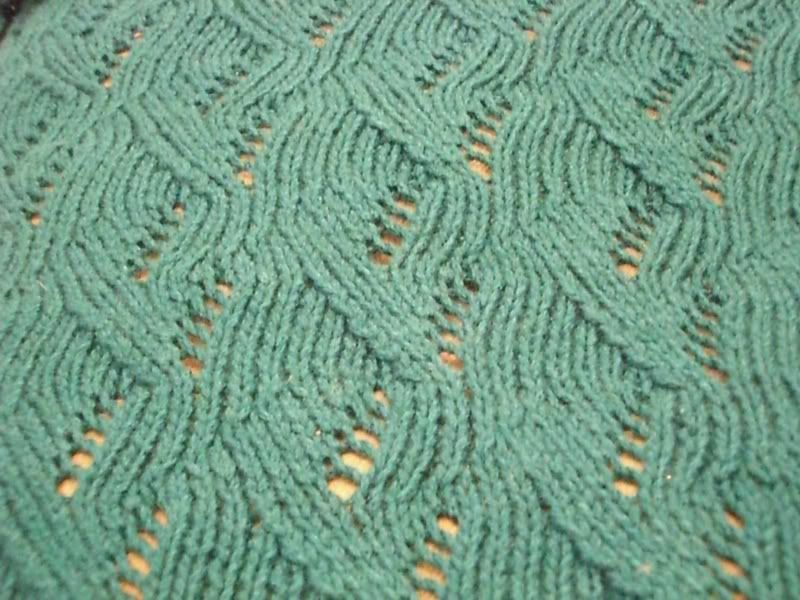 The yarn is just yummy, the colour is closest to this picture (sorry a bit out of focus!) a really true, strong jade. I think the yarn is discontinued, it seems to only be on sale at a few places and is cheap (bag some if you can!!!). The stitch definition is great, being cotton, and the silk gives it a wonderful sheen, which is what I was looking for. It is woven, not plied (please someone correct my lingo if it's wrong!) so doesn't split at all. It blocks wonderfully too. I quickly washed it in woolite and warm water, then squeezed it out in a towel, which seemed to 'flatten' the stitches a bit - in a good way. I pinned it out over night, and it seems to have worked well. The curl at the cast off edge is a bit annoying, but worth it for missing the garter stitch.
As a scarf, this is no way as cuddly as Icarus, the yarns are just polar opposites. But, this has better stitch definition, so the stitch pattern is more of a proper feature. I just love it.
My colleague, the lovely Richie, said how lovely it was, and that I had the Guerilla Warfare Chic look going on. I take this as a great compliment, as he's trendy and cool. And loves blogs, so I'll have to tell him he features on one today!
And, lastly, thasnk so much for your amazingly generous comments on my last post - my etsy shop is up (keep checking back as I increase my stock!).