I made a cake!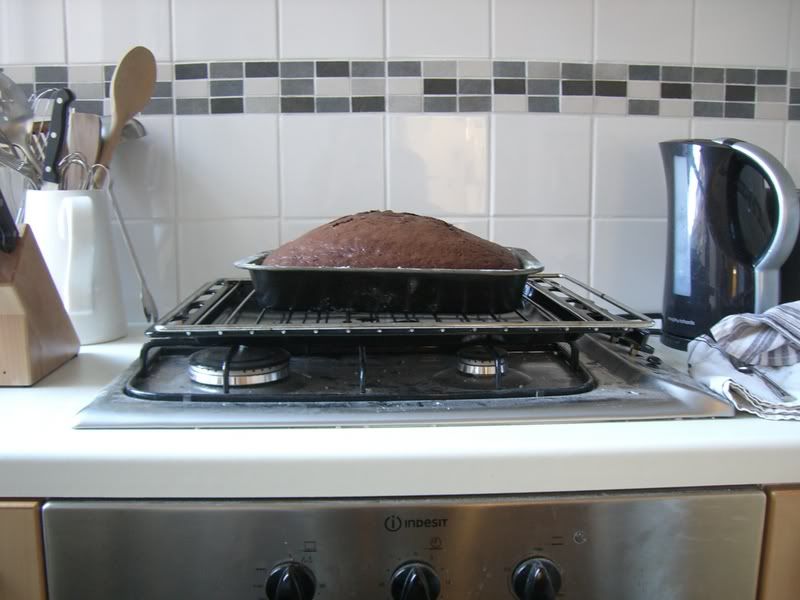 Thank you so much poops! This is her recipe 'Ern's Cocoa Cake'. And it worked! It came out a bit dome shaped, and took nearly an hour to cook (as opposed to 40 minutes Poops suggested). So maybe my oven is cooler than it should be? I sliced off the top (and ate it - naturally!) and then iced it with a very sickly icing sugar/cocoa mixture. Firstly the icing was too runny so it dripped down through the cake - which was actually quite nice! I did most of the mixing by hand, our hand blender is not really suitable for thick mixtures. And Poops, when you said 'big ass bowl' you meant a big ass bowl! It was nearly slopping over the top!
Anyway, most of it has gone. I wish you were closer Poops, so you could try it!
Thanks also, to everyone from Knitty who offered me recipes. Roxy, purrl, musetta, seven and miss_squeezie (sorry if I have forgotten anyone - all recipes were printed!). Believe me, I'm going to try them ALL. Thanks to everyone else who offered advice. It was duly noted!
Here too is a random campus shot, of one of the halls, just because it looked so pretty last week.