Yesterday I popped into one of my LYSs, one I haven't been to for a while, on the way back from the vets. Previously, Gweneth's (Blackberry Yarn, Mountsorrel, no website) stock has been good but limited. Now though, she has much improved. I bought some new Sublime yarn (the new luxury arm of sirdar). I am so impressed. I have put a mini-review
here
if you're interested. I bought a bright pink and a limey green, for a hat for a friend's baby girl.
I hoped I'd be inspired by a pattern when I got home. I started off using a very simple DB pattern for a roll brim beanie hat. I sized it down however, as the smallest size was 3-6 months and the baby is new! I was aiming for her to be able to wear it from now through autumn, about a 3 months size I guess. Although who know how big a baby's head is? So I started knitting and it occurred to me, I could use the green to make it look like a Strawberry! I know this is not that original, there are loads of similar ideas out there. So I made the rest up as I went along. I wanted to incorporate the leaves in with the main body of the hat rather than have the leaf sewn on afterwards. This is how it turned out.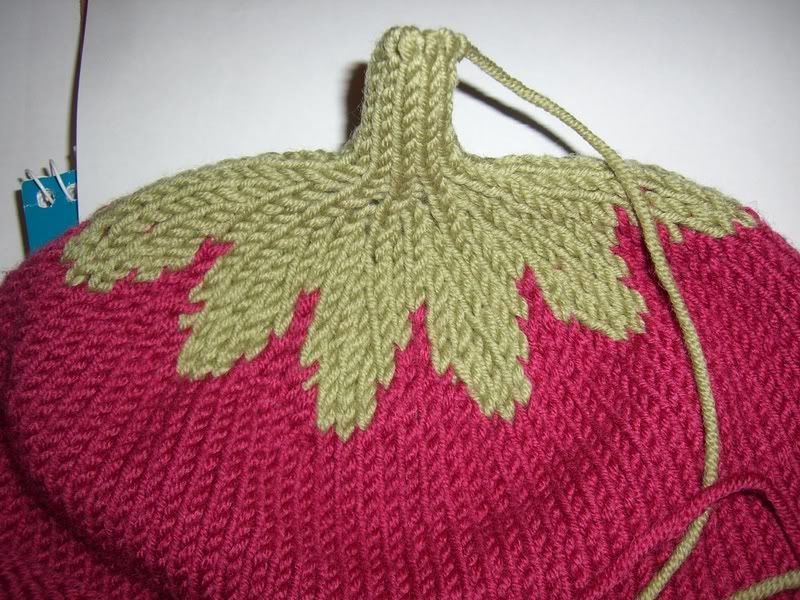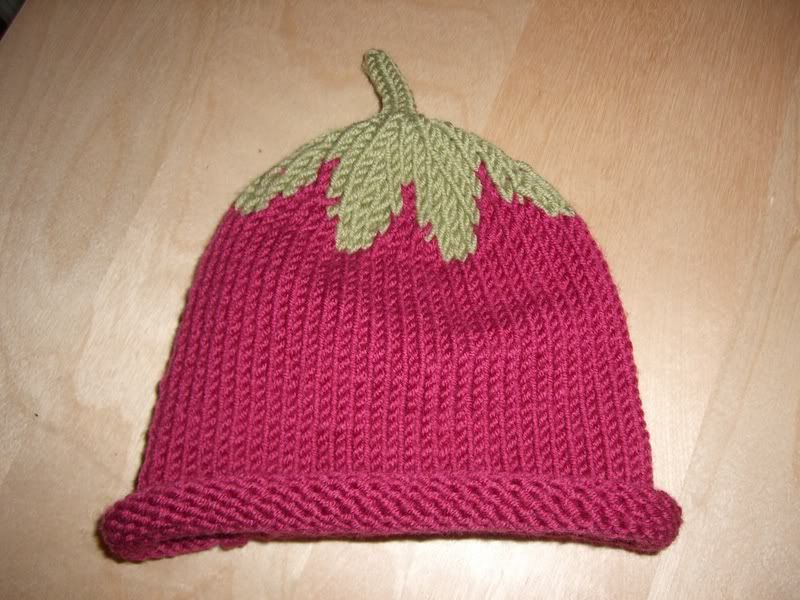 I'm so pleased! My colourwork is usually rubbish, but this came out OK! I never know if I'm doing fairisle or intarsia. I was carrying the colour along the back and twisting as I went, no loops at the back? Which is that? I do get in a muddle whilst doing it! I was aiming for the leaves not to look too perfect and be a bit random, like a strawberry actually is. I hope baby Mia likes it!
James is away on a course so I had a very nice, quiet evening, with uninterupted knitting and one of my favourite films on ITV3, 40 days and 40 nights. I know I know, its rubbish, but very funny. And it's Josh Hartnett again (are you noticing a theme here?). I felt thoroughly content, but perhaps I should have taken the oppertunity to do some Jamesy-sock-knitting whilst he's away.....
BTW, thank you all for your ongoing sweet comments :0)