Aren't I a lucky girl! More gifts! Again, I'm just overwelmed with the generosity of Knittyheads (from the
knittyboard
). These arrived yesterday from
knitting mamma
. At least I think they did, she didn't send a note! A while back, I mentioned on Knitty how much I was in awe of the lovely coloured needles, available in the States. As a result I've been sent so many by so many lovely people. Please know, they are very much loved! Americans must think I'm bonkers, being mildly obsessed with these needles. I just think their jewels colours are stunning, and a way to stylishly display my love of knitting! And, I really like to knit with them too. Not too grabby, not too smooth. And lightweight too.
She also sent these lovely stitch markers as a surprise too. They are gorgeous. I especially love the ones on the right. They look like little jewels! Please ignore our
hideous
wallpaper. Believe me, it's going just as soon as we get around to it. It's on the
long
list of DIY chores!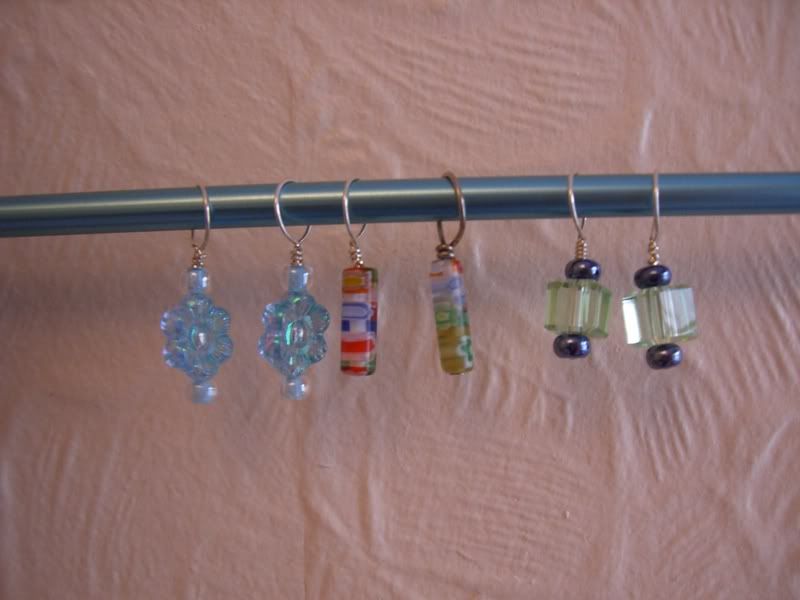 We finally got around to ordering a new computer yesterday too, hooray! It's a Dell Inspiron Notebook. Not flash, but will enable me (sorry us, I promise I won't hog it!) to have broadband internet access at home at last. I've been reading one of scarybez's blog posts on the problems academics often have with writing. I seem to have severe inertia in starting to write my thesis. I have been told in no uncertain terms that there is not reason why I shouldn't have submitted by September 07. Scary stuff. Really should be further along in writing by now. I have done bits and bobs, but nothing that looks anything thesis-like. And bearing in mind that I'm in the fortunate position (unlike some of my colleagues) to have actual results, I really should be further along. I think Scarybez's adopted theory on it ultimately being a confidence problem is really interesting. How could what I have down be of any interest/consequence to anyone? I'm hoping that the novelty of having a new computer (and the ability to write in comfort at home) will kick start my writing and at least get me started. Here's hoping........
And this is what I've been doing for the last few days, helping to organise delegates. Thrilling. Actually, I get to listen to it all and Thursday should be quite interesting for me, my supervisor is speaking. This should also be a fantastic networking oppertunity for me, did I not find this kind of thing so difficult! I can talk to new randoms easily if I have something specific to talk about, but I find small talk at these kind of functions really difficult. Still. Anyway, at least we get fed twice a day when the conference is on, so its a chance to practice!
Sorry for the long waffle-y post. I really must get around to some knitting.......